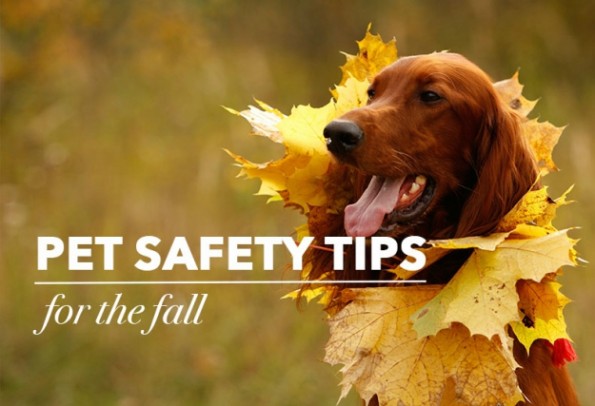 Fall is officially upon us, and with new seasons should come new habits. Familiarize yourself with potential perils your pet could face this season so you can take advantage of all the benefits it has to offer.
Turkey & Chicken: Bones from turkey and chicken splinter easily and can become serious choking hazards.
Fat Trimmings: Allowing your pet to feast on fat trimmings can cause them to develop Pancreatitis.
Grapes & Raisins: This fruit, whether it be in it's natural state or dried out, is extremely poisonous to dogs.
Nuts: Nuts are not only high in fat, but are toxic for dogs and can cause obstruction once ingested.
Candy & Chocolate: Chocolate is virulent and too much sugar can cause your pet to not only gain weight but also develop dental problems, pancreatitis or have a constant overproduction of insulin.
Seasonal Risks:
Fleas are at peak numbers during Fall, so it is important to keep your pets up-to-date on their flea control.
Allergies caused by Ragweed Pollen and Mold are common during this season. Itchy eyes, drippy noses, and sneezing are symptoms your pet may show if they are suffering from seasonal allergies. If you notice your pet exhibiting any of these symptoms it's time to visit your vet and have them treated.
If ingested, acorns and oak leaves are poisonous to dogs and may cause intestinal blockage. Be careful to not let your pet drink from a puddle where oak leaves have settled as this can also be toxic.
Costumes: Ensure your pets costume does not impair their vision, movement or air intake. It is also a good idea to fully inspect their costume for any small pieces that your pet may try to chew off, to avoid any choking hazards.
Candy Wrappers: Cellophane and foil wrappers can cause life-threatening bowel obstructions for your pet.
Trick or Treaters: If you have a territorial or overprotective dog, keep them in the house and away from trick-or-treaters who can trigger those protective urges.
Outdoor Fun: With the drop in temperature and change of scenery, Fall is the perfect opportunity for you and your pet to spend more time outdoors. You'll be able get in some great exercise without the worries of scorching hot pavement, heat stroke or dehydration which are all typically caused by the hot summer sun.
Quality Time: If you have a sociable pup, they are bound to love this time of year because more holidays means more guests visiting them!
Pumpkin: A nutritious source of fiber that is low in calories, this vegetable makes for a healthy fall snack. Be sure to use pumpkin puree or pure canned pumpkin – NOT pumpkin pie or pumpkin pie mix.

In conclusion, being mindful of the dangers and risks that come with the changing months will ensure that you and your pets can enjoy all of the fun and excitement that the season brings!