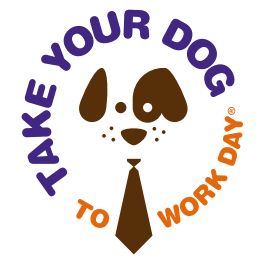 This celebration of dogs in our life was started by Pet Sitters International in order to promote pet adoptions in 1999. It is always the Friday after Father's Day in June. Who wouldn't love to take their dog to work and show off how great of a pet he/she is? Here are some tips to make it a great day for you, your dog and your co-workers.
First, not everyone wants a dog in their workplace. Maybe one of your co-workers is allergic, or had a terrible experience with dogs at some point in their lives. Please make sure to check with the management team at your work place to make sure everyone is OK with your dog coming to work with you.
Make sure your dog is fit to visit your work place. He/She should be current on vaccines, and have had a negative fecal within the last 6 months. Accidents happen and since some of the parasites that dogs can harbor in their intestines are transferable to people, you'll want to make sure there is no danger to any of your co workers. Of course you'll want your dog looking his/her best, so a good bath or grooming before the big day is in order.
Having done that, make sure to 'Puppy Proof' your office and any of the spaces that your dog will be spending time. Look around for plants that can be ingested, cleaners or chemicals that your dog could be exposed to and cords that can be chewed. Secure all these items and it will be a much safer experience for all.
Take a doggie bag with you and your dog to work. Include food, treats that you and your co-workers can give to your dog, baby or pet wipes, a favorite toy or blanket, and a baby gate or portable crate/pen if you work in an open work place. You know your dog best, so you can make sure that his/her tummy health is not compromised with a lot of unhealthy treats when you provide them yourself.
And finally, plan an exit strategy with your management team in case your dog becomes overwhelmed or ill. Make sure it's OK to leave if you need to or arrange with your friend, family member or pet sitter to be available to pick up your dog if need be.
Let's make this Friday a great day!! Share a photo of your dog at your work place to our Facebook or Instagram so we can celebrate with you!