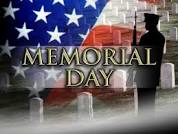 With Memorial Day right around the corner signaling the official start of the summer season, we want you to keep a few things in mind while you and your pet are enjoying the long weekend.
On these hot days, limit exercising your dog to the cooler early morning and early evening hours to help to prevent heat stress and heat stroke. The asphalt gets just as hot on their pads as it does on our bare feet, so keep that in mind when walking.
Hydrate! Hydrate! Hydrate!
Even in the shade dogs and cats need access to cool fresh water, so remember to refill bowls.
Most people don't realize just how hot the interior of a car can get, even with the windows partially open and parked in the shade. The inside temperature can quickly reach in excess of 110 degrees ! And we all know how a quick run into the store can get bogged down, so it can be better to just leave your dog at home or have another person come along to sit in the shade outside the car with your dog on a leash.
Memorial Day cookouts are a great tradition and you'll want to remember that dogs can get pretty nosy around the great smelling grill, so we want everyone to keep an eye on the dogs at the party while you are eating and make sure they are not trying to help themselves to the food or try to get at the hot grill. Many of the rib and chicken bones will splinter and can cause stomach and intestinal tears, so don't let those sad eyes get to you. Best to keep them on their regular diet during any holiday.
We'd like to take this time to salute all of our service men and women from around the country and across the decades. We truly appreciate your sacrifice and without you, we would not be free. Thank you from all of us at Markham Woods Animal Hospital.